"Every word of God is pure: he is a shield unto them that put their trust in him." (Proverbs 30:5)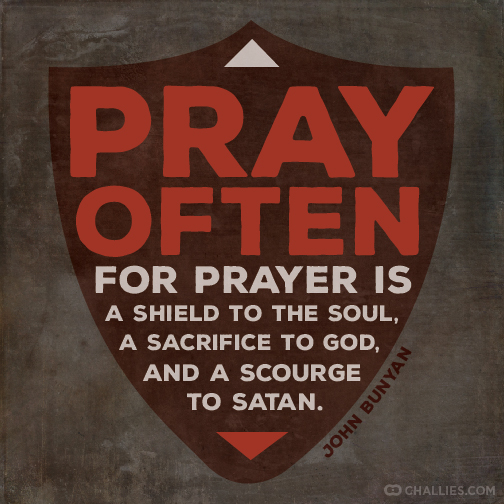 Good Morning and Blessed Lord's Day, Dear Saints!
Happy "All Saints Day" to you! Last night was, of course, Halloween Night. I have noticed a trend in costuming that has emerged in the past few years. More and more families are dressing in themes. For example, my son Zach and has wife and kids were all outfitted as the "Addams Family". My son Dan and his crew were dressed as characters from the "Back To The Future" movie, complete with a miniature De Lorean they had designed. Some other friends of mine were regaled as characters from Peter Pan lore.  It was all great fun. Homes visited by costumed children saw lions and dragons, princesses and fairies, cowboys and Indians, policemen and, yes, perhaps even "Good Old Charlie Brown".  It was all great fun. One year at a party, I wore my "armor of God" that I often use in my time with the children on a Sunday morning to illustrate God's protection. One year, someone commented that I had "outgrown my shield" (which was true, as the costume was really designed for someone much younger than me). It reminded me that in my spiritual life, I need the biggest shield possible to guard me from the attacks of my greatest foe, Satan. I am blessed, for such a shield is available for me, forged by the Almighty Himself. In fact, He is my shield, whose protective presence is accessible through prayer. John Bunyan, who wrote the classic "Pilgrim's Progress", said this of prayer:
"Pray often, for prayer is a shield to the soul, a sacrifice to God, and a scourge for Satan" 
My soul is vulnerable to the attack of my relentless enemy, Satan, and needs the protection of the Almighty, available through prayer and the Word. As I "sacrifice" with prayer before the Throne of Grace, I fill the heavenly places with a sweet aroma that is pleasing to God. "For we are to God the aroma of Christ among those who are being saved and those who are perishing" (2 Corinthians 2:15)
Our prayers are a "scourge for Satan."  He knows that he cannot prevail against them. Take the advice John Bunyan offers. pray often, "for prayer is a shield to the soul, a sacrifice to God, and a scourge for Satan."  Let's pray!
O Mighty Lord God; we need Your protective presence in our lives, to shield us from the attacks of the enemy. We come to You with prayer, which we know is a pleasing sacrifice to You. It is our prayer that the Enemy will see and know that he is a defeated foe when he comes up against us, for we are covered in Christ and guarded by Him. May the splendid aroma of Christ identify us to the world in this, and every new day. Amen