"He will sit as a refiner and purifier of silver; he will purify the Levites and refine them like gold and silver. Then the Lord will have men who will bring offerings in righteousness." (Malachi 3:3)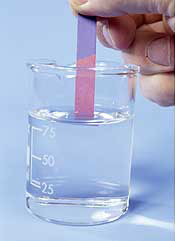 Good Morning Dear Friends!
When I was in high school, my particular interests always seemed to learn more to the arts than the sciences. I loved music and drama, public speaking and performances. When it came to math, biology, chemistry, however, I was less than enthusiastic. I attribute this to being more of a 'right brained" individual. I suppose it could also be attributed to being less than interested in balancing equations and much more interested in just singing and such. So please…don't even bother asking me to help you solve a math problem or understand chemical compounds. I will say, however, that though I was less than skilled or interested most of the time in chemistry class, I was fascinated by litmus paper, of all things. Now, as you may recall, the purpose of litmus paper was to determine the acidity of a compound. It accomplished this remarkable feat by turning from blue to pink. The blue litmus will turn red or pink when it comes into contact with an acidic solution below pH 4.5. I am sure this is very helpful and nice to know, but for me, it was more of the "magic' of watching the paper change color (there's that artistic side coming out again). When performing this procedure, it was generally referred to as being the "acid test". That term has become somewhat more generic these days, referring to the determination of the true nature of one's character or devotion. This leads me to today's thought on prayer. Wesleyan minister Samuel Chadwick made this suggestion. He wrote,
"Prayer is the acid test of devotion."
God's "litmus paper"and the true test of our devotion to Him can be measured in prayer. Suppose prayer worked like litmus paper. Were you to apply such an "acid test" to your devotion to God with prayer, what color would your "prayer paper" be? Would it burst forth into a colorful hue, transforming your heart, soul, and mind, or would it remain the same dull shade throughout the day? What would the "acid test of devotion" demonstrate about your relationship with God? As Peter notes in 1 Peter 1:7, "the proven genuineness of your faith–of greater worth than gold, which perishes even though refined by fire–may result in praise, glory and honor when Jesus Christ is revealed. when put to the test."  May our faith and devotion prove to be genuine when put to the "litmus test" of prayer! Let's pray!
Holy Lord God; You are like a refiner's fire. We pray that as our faith and devotion are purified in the crucible of   Your presence, we may indeed pass the test and not be found lacking, but full of the grace, the joy, the peace, and the love of Christ. Fill our cup, Lord, we pray, in Jesus' Mighty Name. Amen!