"I will give you a new heart and put a new spirit in you; I will remove from you your heart of stone and give you a heart of flesh." (Ezekiel 36:26)
Good Morning and Happy Saturday-Before- Christmas One and All!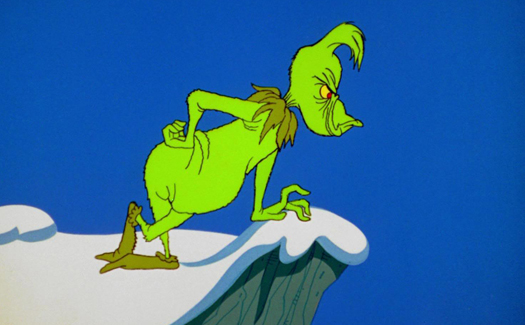 With the possible exception of Ebenezer Scrooge, no character from literature quite symbolizes a genuine disdain for the Christmas season as that of Dr Suess's "The Grinch" In his book, "How The Grinch Stole Christmas, Dr Seuss provides us with some speculations as to why the Grinch felt such animosity towards Christmas. He writes,
"The Grinch hated Christmas – the whole Christmas season. Now, please don't ask why; no one quite knows the reason. It could be, perhaps, that his shoes were too tight. Or it could be that his head wasn't screwed on just right. But I think that the most likely reason of all… may have been that his heart was two sizes too small."
Indeed, it was a matter of the heart for the Grinch. The love of Christmas and of it's Mighty Founder, Jesus Christ, is, and always will be, a matter of the heart. In Ezekiel's prophesy, God speaks to the Israelites through the prophet, telling them that it is his intention to cleanse them from their past practice of idol worship and the impurities that came from that forbidden practice. The worship of idols made of stone led to the development of "hearts of stone"…small, lifeless hearts, in his people. God promises a "Heart and Spirit transplant", as it were…a new heart and a new Spirit…God's own Spirit…a living heart and Spirit in a people that had forgotten Him and lost the joy of the Lord as a result.
In Seuss's tale of the Grinch, his transformation comes with the realization that the Christmas he so despised was much more than he imagined it to be. His heart had been deceived and the truth set him free. Seuss put it like this:
And what happened, then? Well, in Whoville they say – that the Grinch's small heart grew three sizes that day. And then – the true meaning of Christmas came through, and the Grinch found the strength of *ten* Grinches, plus two!
Though simplified in Seuss's story, it was, in fact "the true meaning of Christmas" that resulted in his own "heart and Spirit" transplant. The true meaning of Christmas is stated well by John in his gospel account where he writes "For God so loved the world, that he gave his only begotten Son, that whosoever believes in him should not perish, but have everlasting life." (John 3:16)  Are you in need of a heart and Spirit transplant? The Great Physician, our Lord and our God, stands at the ready to perform this most miraculous procedure.  So..."Welcome, Christmas, bring your cheer. Cheer to all Whos far and near. Christmas Day is in our grasp, so long as we have hands to clasp. Christmas Day will always be just as long as we have we. Welcome Christmas while we stand, heart to heart, and hand in hand." Let's pray!
O Merciful Lord; Grant that in Your great mercy I may also have a heart of stone and a new and right spirit within me. Fill me with a renewed sense of joy and wonderment concerning this Christmas season…that which comes from the true meaning of the season…Christ is born! Let the whole world rejoice. Amen!